China Prefabricated Bathroom Design Outdoor Portable Toilets Mobile Shower Room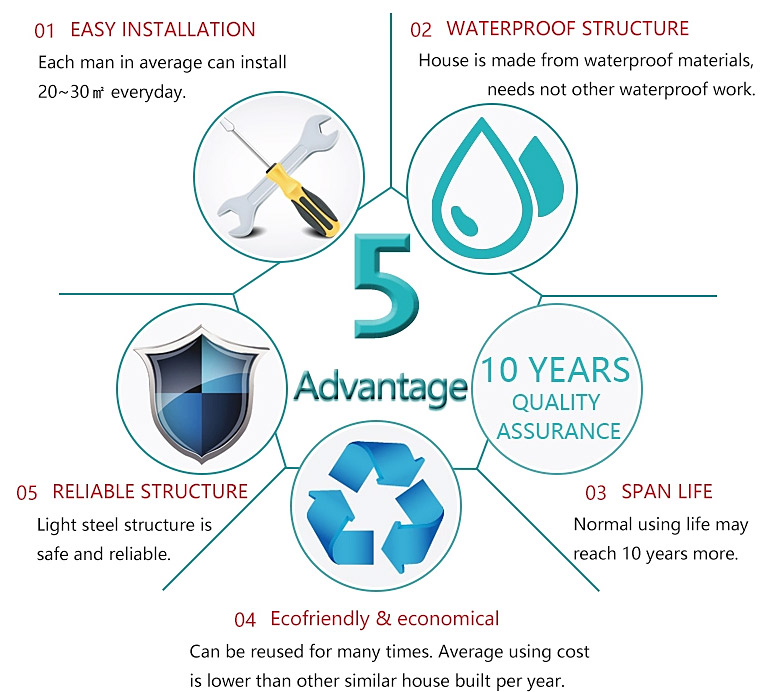 The Prefab Portable Toilet is 
Of a frame structure composed of welded steel. Generally, the bottom is welded with channel steel or I-beam, and the column is made of square steel. Wall materials are made of color steel plates, glass steel, stainless steel, and metal carved plates.  Portable toilets are light weight, conveniently usage, Good looking in appearance. 
Prefab toilets is interior facilities with closes tool, washing basin, exhaust fan, ventilated, light, switch etc., and the dimensions are 1.1x1.1x2.3m, 1.2x1.2x2.3m or customized.
They are suitable for urban streets, park greening, stations, docks, tourist attractions, villa areas, new communities, large construction sites, squares, and densely populated public places. And bustling commercial streets.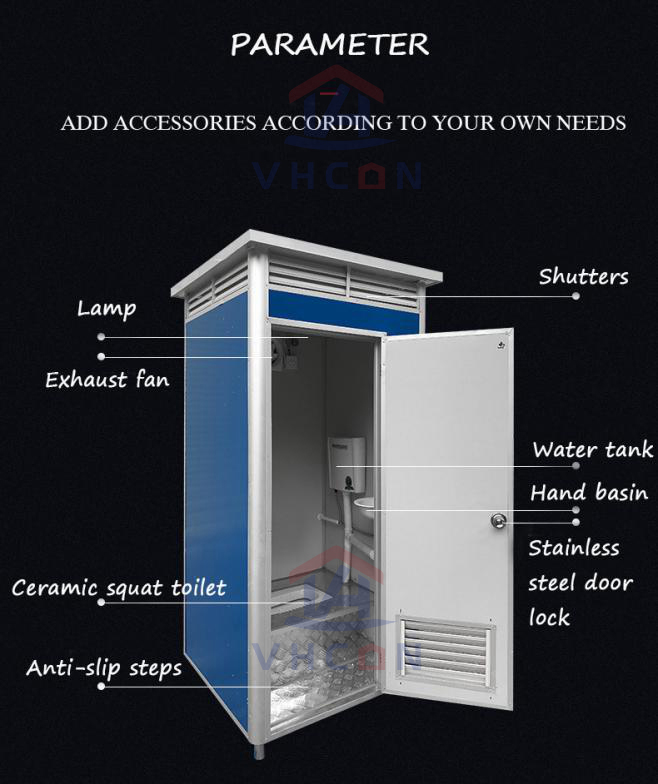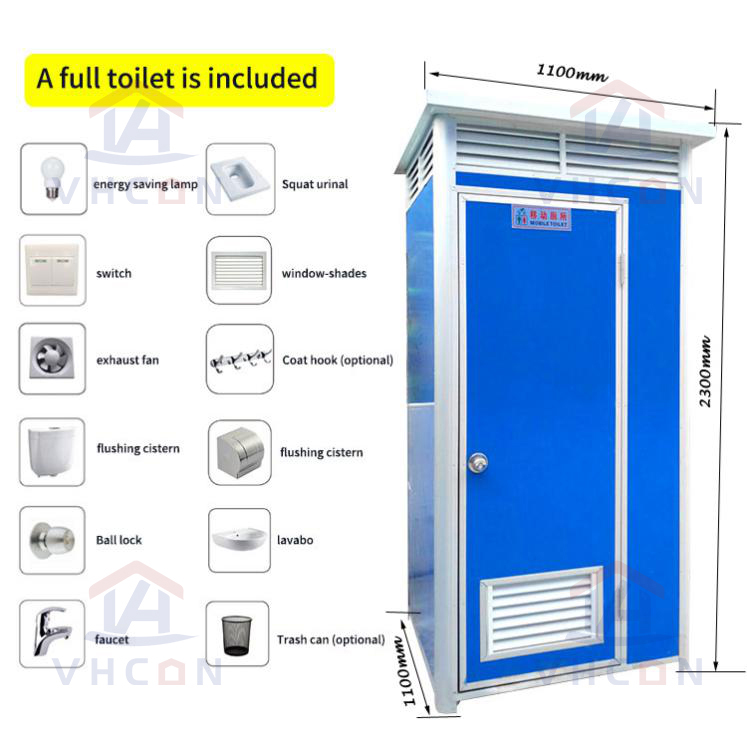 MORE COLOR AND MORE JOINED TOILET COULD BE CUSTOMIZED.
We have different type for the beach toilet : with ladder or without ladder.Squat and Seat model are both available. You also can add shower and floor drain in the outlet pipe/waste tank model.Light,switch,basin,flush machine,exhaust fan are installed with toilet.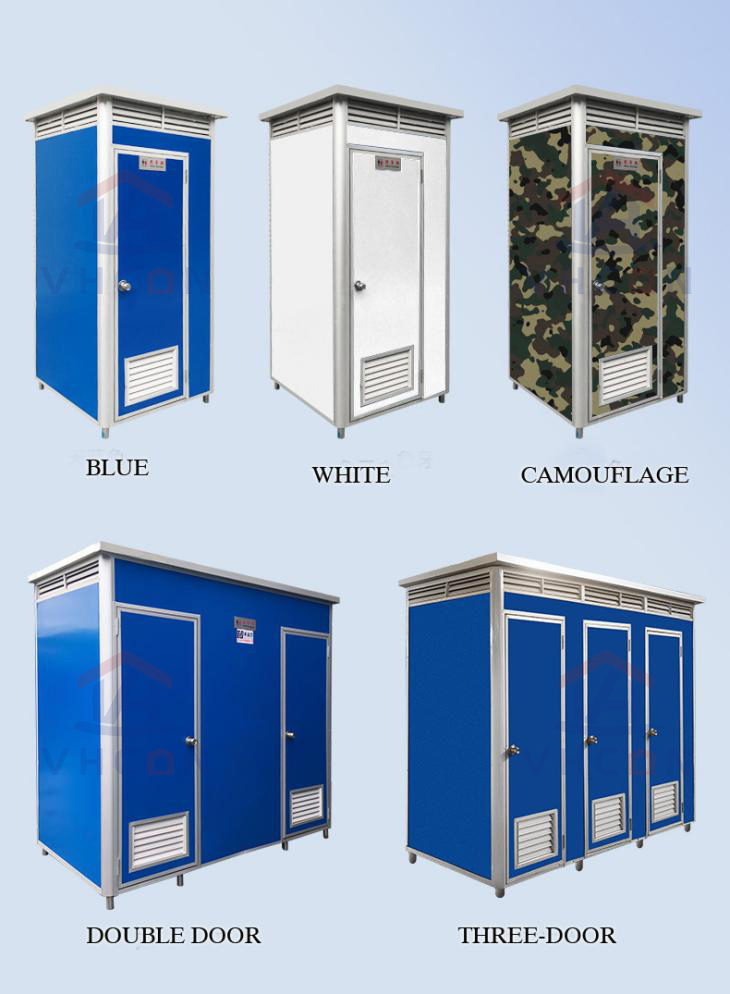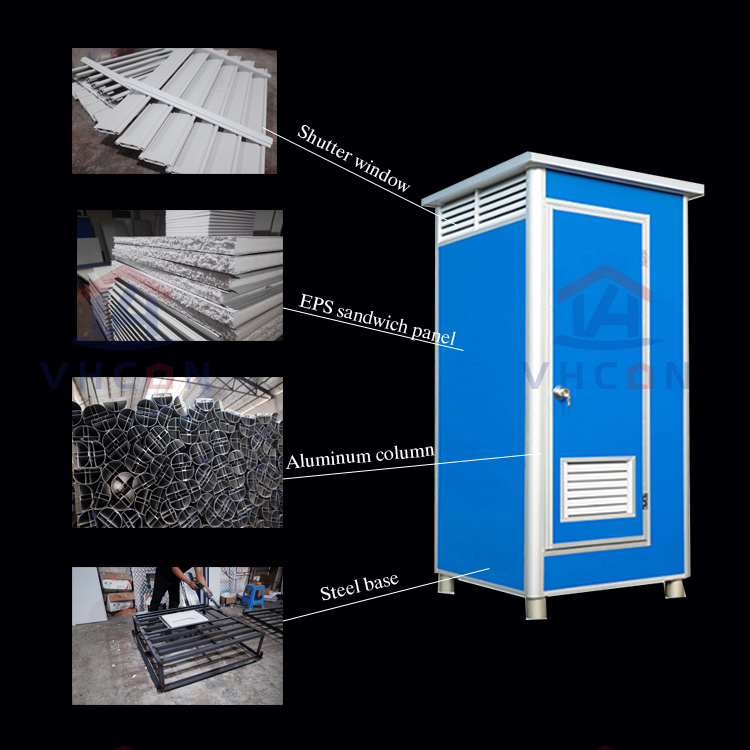 3.Advantage
●Outdoor Special event: Wedding, Concert, Sport Race, Graduation ceremony, Parties, etc.
●Commercial & Residential Construction sites
●Campsite
●Agricultural harvests
●Disaster relief operations
●Trade shows
●Public areas
●Park
●Parking Lots
4.Application Area Project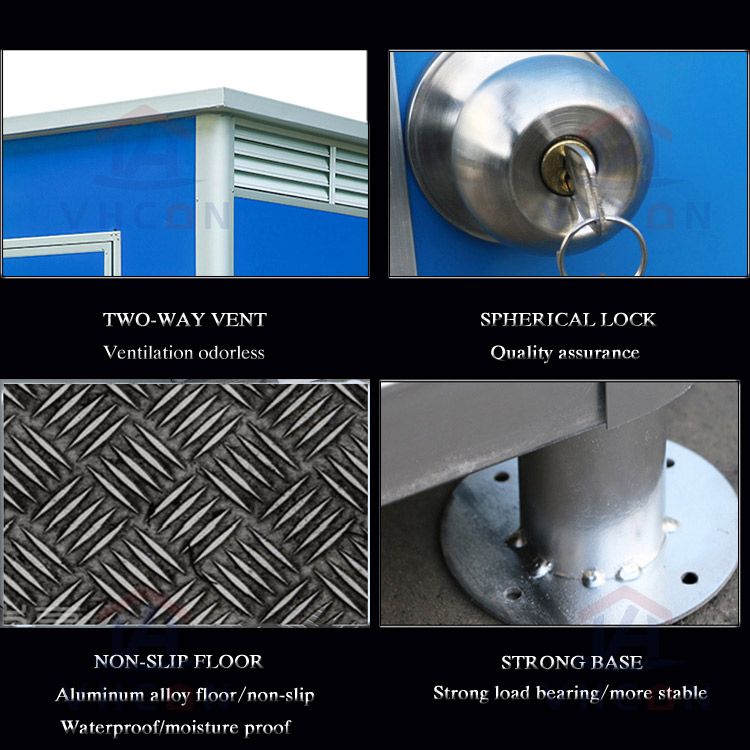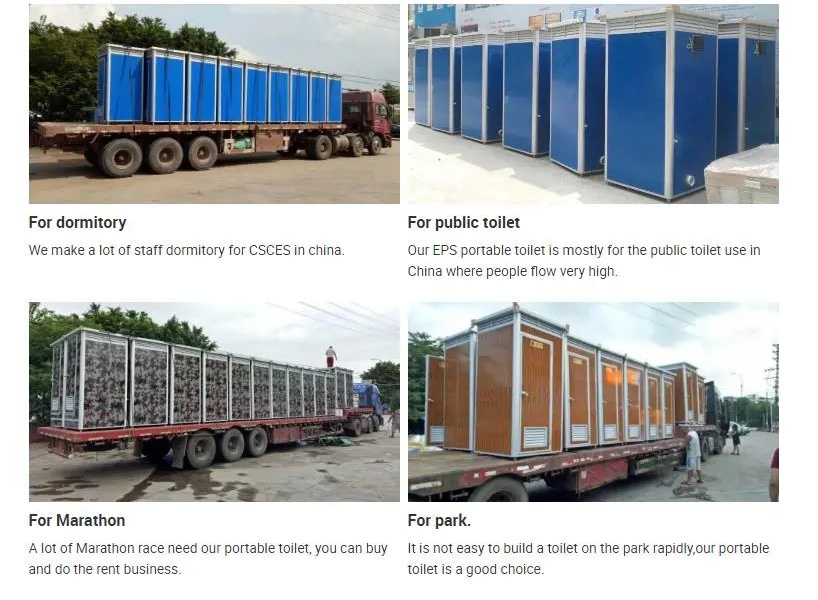 5.Service
1.24hours one-to-one online services ensure efficient support.
2.Onsite professional installation engineers team available for foreign countries.
3.Considerate customer reception from hotel booking to factory visiting.
4.Excellent care from order confirmation to product shipment.
7.FAQ
Q: Could you please design a new and unique light steel mobile toilet Sentry Box for me?
A: Absolutely! We are able to provide you with not only construction scheme and structural drawings, but landscape design! Besides, detailed drawings and 3D models are surely included. One-stop service is our outstanding superiority with no doubt.
Q: What should I provide to build a light steel mobile toilet Sentry Box?
A: So easy! Sketch drawing would be a better reference for us. However, you will never mind if you don't have any. Simply notify us your requirements, such as the area, usage and the storey of the house. Before long, you'll possess an amazing design.
Q: How could I ensure the cost of building a light steel mobile toilet Sentry Box?
A: Firstly, the designing scheme should be accepted. Then, the kinds of building materials should be confirmed since different types and qualities make various prices. After that, we will send you a detailed quotation.
Q: How Long does it take to build a light steel mobile toilet Sentry Box?
A: It depends on the size of the house. Generally, the construction period of is 1 month of a 200-square-meter house by a
construction team of 5-6 people. It only costs one week to build the steel structure frame.
Q: Is it difficult to build a mobile toilet Sentry Box?
A: totally not, you can build the house independently according to the construction drawings as long as you know how to use an electric tool.
Q: Does this kind of mobile toilet can only be used in residential building?
A: Absolutely not. It can be used in all kinds of buildings, such as hotel, commercial office, school, entertainment club, light
industrial workshop, ect.
---
---
Write your message here and send it to us